Description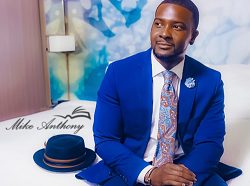 Greetings, I'm Mike Anthony from Oakland, Ca. I'm the son of Sharon Jarvis- Johnson and Charles Holland Sr. The Stepson of David Johnson. I'm the brother of Dwayne and Charles Holland and Shawanna Emerson. I'm the proud uncle of Kingston, Alayah and Tysean. I graduated from Skyline High School in Oakland, then went on to attend Art Institute of Atlanta where I majored in Fashion and Retail Management. I've always had a passion for writing and after receiving such positive feedback on my first book "Lessons from a Gentleman", my publishers approached me about writing a second which is titled "The Savage" set to release in the 3rd quarter of 2020. Aside from writing books, I also write music and produce.
I'm the owner of Plush Entertainment LLC which specializes in hosting Red Carpet events. Whether it's a birthday party, wedding receptions, New Years Eve celebration, myself along with my team provide excellent service with a smile.
My more recent and major accomplishment is starting my own fragrance line "Mike Anthony Luxury Fragrances" which is geared towards creating signature scents that make the consumer not only smell good but feel good. Our goal is to create an experience with each fragrance from the presentation, to the smell. I'm excited about this venture and the good it will do for people.
I'm truly grateful for my family, friends and all those who have supported my journey thus far. It's my hope that I'm a light to anyone I cross paths with.